To celebrate the season of the witch, Donna Thorland, a member of the script-writers team as well as a novelist, has compiled on the offficial Salem's Facebook account, a list of ten ways to get fans fix while waiting for Season Three.
The List
1. The Daylight Gate by Jeanette Winterson
Pendle is to Britain what Salem is to America, and the witch trials there were equally terrifying. The Daylight Gate is a fantastically gothic novel about a heroine as driven and strong as Mary Sibley, told in fast moving, spare prose. You'll want to finish it in one sitting.
2.The Haunting of Maddy Clare by Simone St. James
The Haunting of Maddy Clare brings Gothic terror to the early 20th century with a richly realized inter-war setting — think Downton Abbey meets Salem. Probably wise to purchase a nightlight before starting this one…
3. A Storm of Witchcraft by Emerson Baker
Hands down my favorite treatment of 1692, Emerson Baker explores the Witchcraft Trials and all the social, economic, and cultural factors that led to them — and then follows their legacy through Salem's history. Essential reading for understanding the town then and today.
4. The House Across the Way by Brian McNaughton
This one is pure buried treasure. World Fantasy Award winner Brian McNaughton never became a household name because he was a writer ahead of his time. The House Across the Way blends cosmic horror and European mythology with spare, precise prose into a truly terrifying tale.
5. Conjure Wife by Fritz Leiber
Norman Saylor studies witchcraft, but he doesn't believe in it. When he discovers that his wife Tansy is practicing it in secret, making charms and talismans to protect him from his academic rivals, he forces her to throw them all away. And not soon after, his life begins to unravel, because witchcraft is real, and Norman has enemies.
6. A Discovery of Witches by Deborah Harkness
Witches, magical books, and vampires. Also, alchemy. You know you want it.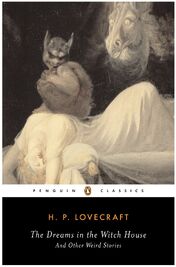 7. Dreams in the Witch House by H P Lovecraft
The master of cosmic horror visited Salem and neighboring north shore towns and incorporated them into his fictional landscape. In Dreams in the Witch House you'll encounter a certain familiar familiar…
8. Young Goodman Brown by Nathaniel Hawthorne
You read it in high school, and that spoiled all the fun. Go back and read it again. This tale of terror and spiritual crisis in the Salem woods by a descendant of one of the trials judges is a bite-sized masterpiece.
9. Conversion by Katherine Howe
Young girls having fits in a small New England town. Sound familiar? Only this isn't 1692, it's today…
10. Nine Coaches Waiting by Mary Stewart
If you haven't read Mary Stewart, the 20th century's queen of gothic suspense, here's the book to start with.
Trivia
It is possible that these books have inspired the authors team in writing the scripts, such as:

Anne's familiar, Brown Jenkins, is named after a demon described in Lovecraft's novel, who was also depicted as a demonic rat at the service of a witch.
"Conjure Wife" by Fritz Leiber narrates the stormy relationship between a husband who discovers his wife embroiled in the Black Arts in a way similar to the relationship between Anne and Cotton.
E. Baker's essay is a good compendium regarding the social context and the development of the hysteria caused by witch-panic in Salem, describing not only historical figures, but also the reasons that led to these events, also including references to demonology.
Pendle witch trials shares much in common with the Salem trials.

Katherine Howe, the author of "Confession", also participated to "Salem: Witches Are Real", a breif documentary released as a special content of Season One. She's also related to the accused Salem witches Elizabeth Proctor and Elizabeth Howe, as well as belonging to an ancient family of Essex.

Essex has also been used as a base for the hive of witches at the center of the events narrated in Salem TV show.
See Also
Ad blocker interference detected!
Wikia is a free-to-use site that makes money from advertising. We have a modified experience for viewers using ad blockers

Wikia is not accessible if you've made further modifications. Remove the custom ad blocker rule(s) and the page will load as expected.