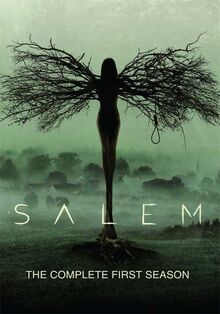 Salem: The Complete First Season DVD box set was released on October 29, 2014. It consists the first 13 episodes from the first season of Salem. The regular DVD version is $29.95.
Overview
Set in the volatile world of 17th century Massachusetts, SALEM explores what really fueled the town's infamous witch trials and dares to uncover the dark, supernatural truth cloaked behind the veil of this infamous period in American history. In Salem, witches are real, but they are not who or what they seem to be. The series, which centers on an epic romance wrapped around this explosive revelation, delivers a bold new vision of Salem - and an even bolder new vision of witches.
Product Details
Actors: Janet Montgomery, Shane West, Seth Gabel, Tamzin Merchant, Ashley Madekwe, Iddo Goldberg, Xander Berkeley.
Writers: Brannon Braga, Adam Simon.
Producers: Brannon Braga, Adam Simon, Josh S. Barry, Jeffrey Kwatinetz.
Format: NTSC
Language: English
Region: Region 1
Aspect Ratio: 1.78:1
Number of discs: 3
Studio: Twentieth Century Fox Film Corporation
DVD Release Date: October 29, 2014
Run Time: 624 minutes
Notes
There are no special bonus featurette. If you are interested in some behind the scenes or interviews, please visit the Behind the scenes section where you will find material released officially on various social networks.
There are no subtitles or dubbing in other languages.
See Also
Ad blocker interference detected!
Wikia is a free-to-use site that makes money from advertising. We have a modified experience for viewers using ad blockers

Wikia is not accessible if you've made further modifications. Remove the custom ad blocker rule(s) and the page will load as expected.