Mary's lullaby

General Information

Episode
Location
Date

October 1692

Participants

Mary Sibley and John
"
You look like you've never had a lullaby before.
"

— Mary to John
"Hush, Little Baby" is a traditional lullaby, thought to have been written in the United States (mockingbirds are from the New World), but the author and date of origin are unknown. The lyrics promise all kinds of rewards to the child if he or she is quiet. The simple structure allows more verses to be added ad lib.
Mary Sibley sang this lullaby to the little John in Cry Havoc.
Mary Sibley's Lyrics
"Hush, little baby, don't say a word,
Mama's gonna buy you a mockingbird.
If that mockingbird don't sing,
Mama's gonna buy you a diamond ring
If that diamond ring turns brass,
Mama's gonna buy you a looking glass.
If that looking glass gets broke,
mother's gonna buy you a black she-goat
and if that black she-goat won't milk
mother's gonna buy you a roll of silk"
Video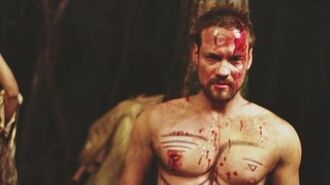 Trivia
Mama is sometimes substituted by Papa, Dada, etc. according to the singer's relation to the child or personal preference. There are simple revisions to the lyrics, but all remain true to the promise of rewards for being quiet.
The song has been recorded by many artists and has been adapted into pop songs such as Maurice King's "Hambone," Inez and Charlie Foxx's "Mockingbird" and Bo Diddley's eponymous song Bo Diddley, as well as Eminem's Mockingbird.
The song has also been used in the play "The Miracle Worker," about Helen Keller and Annie Sullivan.
There are several versions of the song, but the most common is not too different from the one used in the show.
Ad blocker interference detected!
Wikia is a free-to-use site that makes money from advertising. We have a modified experience for viewers using ad blockers

Wikia is not accessible if you've made further modifications. Remove the custom ad blocker rule(s) and the page will load as expected.