Joseph A. Porro

General Information

Full Name

Joseph A. Porro

Season(s)
Joseph A. Porro is a experienced costume designer who works out of Hollywood and Shanghai on film, movies, TV, shows.
Career
Film Costume Designer
Neon Maniacs, Castle Hill, 1985
Near Dark, De Laurentiis Entertainment Group, 1987
The Blob, TriStar, 1988
Fright Night Part II, TriStar, 1989
Lionheart (also known as A.W.O.L., A.W.O.L.--Absent without Leave, and Wrong Bet), 1990 Universal, 1991
I Come in Peace (also known as Dark Angel), Triumph Films,1990 (As Joseph Porro)
Death Warrant, Metro-Goldwyn-Mayer, 1990
Bukharin--Enemy of the People, 1991
Meet the Applegates (also known as The Applegates), 1990 Triton Pictures, 1991
The Perfect Weapon, Paramount, 1991
Kickboxer 2: The Road Back, Trimark Pictures, 1991
(As Joseph Porro) Double Impact, Columbia, 1991
Universal Soldier, TriStar, 1992
Shadow of the Wolf (also known as Agaguk), 1992 Triumph Releasing, 1993
(As Joseph Porro) Super Mario Bros., Buena Vista, 1993
Tombstone, Buena Vista, 1993
(As Joseph Porro) Stargate (also known as Stargate, la porte des etoiles), Metro-Goldwyn-Mayer, 1994
Mighty Morphin Power Rangers: The Movie, Twentieth Century-Fox, 1995
The Quest, Universal, 1996
(As Joseph Porro) Independence Day (also known as ID4), Twentieth Century-Fox, 1996
(As Joseph Porro) Maximum Risk, Columbia, 1996
Deep Rising, Buena Vista, 1998
Homegrown, TriStar, 1998
Godzilla, TriStar, 1998
The Thirteenth Floor, Columbia, 1999
Stuart Little, Columbia, 1999
Blindness, Park Avenue Productions, 1999
Shanghai Noon, Buena Vista, 2000
Television Work
Ghost Whisperer (TV Series) (41 episodes) 2005-07
The Cleaner (TV Series) (11 episodes) 2008-09
The Lizzie Borden Chronicles (TV Mini-Series) (6 episodes) 2015
Movies Costume supervisor:
Johnnie Mae Gibson: FBI (also known as Johnnie Gibson F.B.I.), CBS, 1986
A Quiet Little Neighborhood, a Perfect Little Murder (also known as Darling, Let's Kill the Neighbors, Honey, Let'sKill the Neighbors, and A Perfect Little Murder), NBC, 199
Video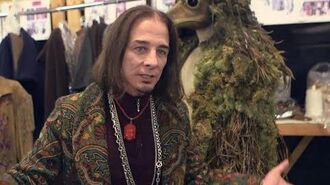 Trivia
Ad blocker interference detected!
Wikia is a free-to-use site that makes money from advertising. We have a modified experience for viewers using ad blockers

Wikia is not accessible if you've made further modifications. Remove the custom ad blocker rule(s) and the page will load as expected.