Salem costumes are an haute couture work, result of the careful artistry of Joseph A. Porro, WGN Salem official costume designer. Over 600 costumes and 300 shoes help bring Salem to life. Costume designer Joseph Porro reveals how he dressed Salem Village with both history and fantasy.
Historicity and fantasy
Edit
Women's fashion in Salem at the time of the trials was very conservative. The church dictated the dress code, and women were to wear large dark outfits that hid their form and most of their skin. In fact, convicted witch Sarah Bishop was in part accused thanks to her "flamboyant dress." [1] Porro said the inspiration for many of the costumes came from paintings and photographs from that period, the late 1600's.
"Then our producers wanted us to have a little fun with the stuff, make it a little sexier, a little more fashionable for modern audiences," he said. They may not be the most comfortable outfits, but they`re helping the actors get into character.
Main Characters
Edit

Note: for a more detailed description based on the costumes worn during the episodes, it is advisable to click the link attached.
Recurring characters
Edit
Main Article: Countess Von Marburg/Wardrobe
Countess Von Marburg is undoubtedly the character who sported the most extravagant and colorful clothes during the series. Her status as European aristocratic allowed her to indulge in decidedly indecent clothes according to Puritan morality, made up of colors and very expensive materials. Her astral double even wore a short tunic made of braided human hair with shells instead of gems as decorations. In important situations and officers, Countess Von Marburg also wore sober and decorous clothes similar to those of Mary Sibley, constituted by elegant and richly decorated with jewels sewn onto the fabric. Countess' dresses are always full of accurate details that seem to appear more and more every time you look more carefully.
Main Article: John Hale/Wardrobe
Magistrate Hale is the epitome puritanical clothing, facilitated by considerable economic wealth. Frock coat finely stitched with gold buttons, hoods elegantly lying on the shoulders, silk ties and shoes with shiny buckles. he often wore broad-brimmed hats. His clothing is of lower elegance only to that of an aristocrat.
Main Article: Petrus/Wardrobe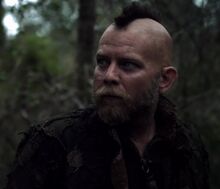 Petrus clothing is downright bizarre, consisting of tanned leather and embellished with details nothing short unusual. For example, a necklace made up of the paw of a rate, bone buttons and finishing with great references to the natural world, similar to some extent to Native Americans rather than settlers.
Multimedia
Edit
Departments
Edit
Costume and Wardrobe Department[2]Edit
Jesse Trevino, head ager/dyer (39 episodes, 2014-2016)
Anette Czagany, assistant costume designer (33 eps, 2014-2016)
Jane Ryder, seamstress/tailor / set costumer / set costumer and seamstress/tailor (26 eps, 2014-2015)
Melissa Naccari, key costumer (26 eps, 2015-2016)
Christian Cordella, costume illustrator (25 ep, 2014-2016)
Annette Farnswort, set costumer (21 eps, 2014-2015)
Maggie McFarland, cutter fitter (19 eps, 2014-2015)
Rendell Bryce, key costumer (18 eps, 2014-2015)
May Azzow, set costumer (17 eps, 2015-2016)
Hannah Gates, key costumer/costume supervisor (16 eps, 2014-2015)
Kelly Gates, seamstress (13 eps, 2014-2015)
Ian Churchill, ager/dyer / costume pa (13 eps, 2014)
Pamela Waggoner, key costumer/key set costumer (13 eps, 2014)
Frank Avanzo, key costumer (13 eps, 2015)

Laine Dubroc, costume ager and dyer (13 eps, 2015)
Marcus Montoya, ager/dyer (13 eps, 2015)
Giselle Spence, seamstress (12 eps, 2014)
Steven Miramontz, Wardrobe photographer (12 eps, 2015)
Shannon Jantz, key costumer (10 eps, 2014)
Sarah Soape, wardrobe accountant (10 eps, 2014)
Rodney Williamson, set costumer (10 eps, 2014)
Katy Morecraft, seamstress (10 eps, 2015)
Sabra Temple, key set costumer (10 eps, 2015)
Tim Wilson, patternmaker and fitter (8 eps, 2014)
Betsey Potter, assistant costume designer (8 eps, 2015)
Bailey Shouse, costume pa (8 eps, 2015)
Michele B. McGraw, costume production assistant: day player/costume production assistant: additional photography: day player (4 eps, 2015)
Ashley M. Clark, additional costumer (3 epes, 2014)
Urmilla Lal Motwani, asst costume designer: India (3 eps, 2016)
Aura Sperling Pierce, stitcher (3 eps, 2016)
According to Ashley Madekwe ("Tituba"): "Our corsets are real. There are no zips, no buttons. They're incredibly restrictive and I don't feel that elegant in it, because there are so many layers."
Janet Montgomery ("Mary Sibley") also said: "It is difficult, because I'm in like three skirts and two corsets, and then I have to act on top of that," and "Joseph has done such an incredible job with the costumes, and he's so period accurate. As much as I might complain about it when I don't want to put it on at like 6 in the morning, it actually does help my character. I'm a sloucher. I have no choice but to stand up properly,"
One of the interior set that's part of a soundstage in downtown Shreveport, LA. which appear like a forest had been transformed into a wardrobe, displaying some unique and downright disturbing outfits.
Some of Joseph Porro's statements about the costumes are as follows:

"I have a ghoul over here who's a reoccurring character, made out of human skin. He has everything from ears to real human teeth as buttons," Porro said. "I wanted faces and hands, backs and highs, and they've all been hand sewn together. So that was one of the craziest things I've ever made in my career."
"This is one of Mary Sibley's dresses. The dress is half silk and half patent leather. And this is Petrus, our alchemist who lives in the forest and blends in. It's almost like a forest camouflage he wears."
"Then our producers wanted us to have a little fun with the stuff, make it a little sexier, a little more fashionable for modern audiences,"
References
Edit
See Also
Edit
Ad blocker interference detected!
Wikia is a free-to-use site that makes money from advertising. We have a modified experience for viewers using ad blockers

Wikia is not accessible if you've made further modifications. Remove the custom ad blocker rule(s) and the page will load as expected.